Kodiak, Alaska, often referred to as the "Emerald Isle," is a remote and breathtaking destination that promises adventure, natural beauty, and a deep connection with the wilderness. Located on Kodiak Island, this Alaskan gem offers a wide range of activities, accommodation options, and restaurants to suit every traveler's tastes and preferences. In this comprehensive guide, we'll delve into the heart of Kodiak, exploring the myriad opportunities for exploration and relaxation that this extraordinary place has to offer.
Things to Do in Kodiak, Alaska
1. Wildlife Encounters: Kodiak's Brown Bears
One of the main attractions that draw travelers to Kodiak is its astounding population of brown bears. Kodiak Island is home to some of the world's largest brown bears, and observing them in their natural habitat is an awe-inspiring experience. You can join guided bear-watching tours that prioritize safety and responsible wildlife viewing. These tours take you to prime bear-viewing spots where you can watch these magnificent creatures in action, often with their cubs.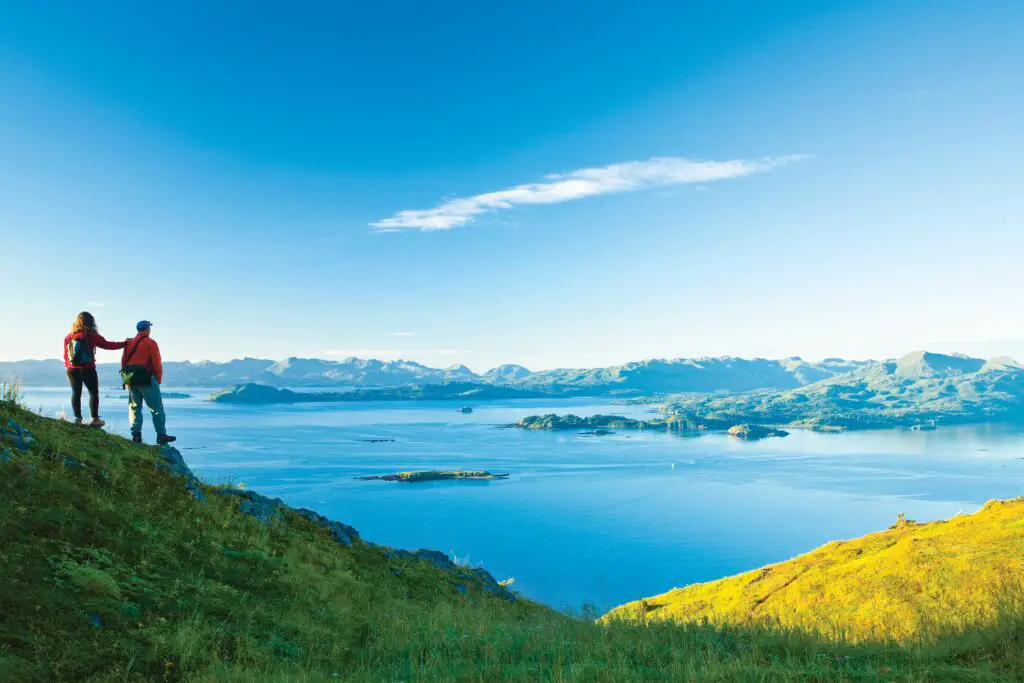 2. Outdoor Adventures Abound
Kodiak's rugged terrain and pristine wilderness provide ample opportunities for outdoor enthusiasts. Hiking is a popular activity, and there are trails suitable for all levels of hikers. The Barometer Mountain Trail rewards trekkers with panoramic views of the island, while the Termination Point Trail offers a chance to explore lush forests and spot wildlife. Fishing is another must-do in Kodiak, with its rich waters teeming with salmon, halibut, and various other fish species. Charter fishing trips are readily available for anglers of all skill levels.
3. Kayaking Kodiak's Coastline
For a more intimate connection with Kodiak's stunning coastline, consider kayaking. Paddle through pristine waters and explore hidden coves, sea caves, and remote beaches. Along the way, you're likely to encounter otters, seals, and sea lions. Several outfitters offer kayak rentals and guided tours, ensuring a safe and memorable experience.
4. A Glimpse into History
Kodiak boasts a rich history, including its significant role in aviation and military operations during World War II. The Kodiak Military History Museum and the Alutiiq Museum provide captivating insights into the island's past. Learn about the brave servicemen and women who served here and gain an appreciation for the unique cultural heritage of the Alutiiq people.
5. Kodiak National Wildlife Refuge
Kodiak National Wildlife Refuge covers a substantial portion of Kodiak Island and is a haven for wildlife enthusiasts, birdwatchers, and photographers. The refuge is renowned for its diverse bird species, including bald eagles, puffins, and a variety of waterfowl. Exploring the refuge's trails and scenic viewpoints offers opportunities to observe these incredible creatures in their natural habitat.
6. Fort Abercrombie State Historical Park
History buffs and nature lovers alike will appreciate Fort Abercrombie State Historical Park. This park features well-preserved World War II coastal defense installations, hiking trails with stunning coastal views, and a beautiful beach for picnics and relaxation. Explore the bunkers and gun emplacements while taking in breathtaking vistas of the surrounding landscapes.
7. Whale Watching
Kodiak's waters are a playground for marine life, including humpback and killer whales. Whale-watching tours, especially during the summer months, provide opportunities to witness these gentle giants in their natural habitat. Keep your camera ready for the unforgettable moments when whales breach the surface.
Accommodation in Kodiak, Alaska
1. Hotels in Kodiak
Kodiak offers a range of accommodation options to suit various budgets and preferences. The Best Western Kodiak Inn, located in the heart of Kodiak, offers comfortable rooms with easy access to downtown attractions. For a more upscale experience, consider the Kodiak Compass Suites, known for their stunning views and well-appointed suites.
2. Vacation Rentals
For a more intimate experience, consider renting a cabin or vacation home. Platforms like Airbnb and VRBO list a variety of waterfront properties and cozy cabins that allow you to immerse yourself in Kodiak's natural beauty. Wake up to breathtaking views of the ocean and mountains right outside your window.
3. Camping in Kodiak
If you're an outdoor enthusiast looking to fully immerse yourself in Kodiak's wilderness, camping is an excellent option. Kodiak boasts well-maintained campgrounds such as Fort Abercrombie State Historical Park Campground, which accommodates both RVs and tents. Another picturesque spot is Buskin River State Recreation Site, offering a tranquil camping experience near a scenic river.
4. Lodges for an Immersive Experience
For those seeking a remote and immersive experience, Kodiak offers lodges that provide access to untouched wilderness. The Kodiak Island Resort is one such destination, where you can enjoy guided outdoor activities such as fishing, wildlife viewing, and hiking. Lodges often prioritize sustainability and eco-friendly practices, ensuring minimal impact on the environment.
Restaurants in Kodiak, Alaska
1. Henry's Great Alaskan Restaurant
Savor Kodiak's renowned seafood at Henry's Great Alaskan Restaurant. With panoramic views of the harbor, this iconic restaurant offers a menu brimming with fresh catches, including king crab, salmon, and halibut. The dining experience is complemented by warm and friendly service.
2. Crab Cracker Seafood Bar
For a casual and delicious seafood experience, visit the Crab Cracker Seafood Bar. Located in the heart of Kodiak, this eatery is celebrated for its crab dishes, offering a laid-back atmosphere where you can enjoy the local flavors.
3. Monk's Rock Coffeehouse & Bookstore
When you're looking for a cozy retreat, head to Monk's Rock Coffeehouse & Bookstore. This charming establishment serves a delightful selection of coffee, pastries, sandwiches, and salads. It's the perfect spot to relax, read a book, and plan your next Kodiak adventure.
4. Old Powerhouse Restaurant & Brewery
If you're a craft beer enthusiast, don't miss the Old Powerhouse Restaurant & Brewery. Enjoy a diverse range of craft beers brewed on-site, paired with a menu featuring American cuisine with an Alaskan twist. The rustic ambiance and live entertainment make it a favorite among locals and visitors alike.
5. Henry's Thai Cuisine
For a change of pace from traditional Alaskan fare, Henry's Thai Cuisine offers a delightful culinary journey. Explore a menu filled with authentic Thai dishes, from savory curries to fragrant stir-fries. The restaurant's relaxed setting is perfect for a unique dining experience.
6. Rendezvous Bar and Grill
Rendezvous Bar and Grill is a beloved local establishment known for its comfort food. From juicy burgers to hearty sandwiches, the menu is designed to satisfy all appetites. Enjoy the laid-back atmosphere and friendly service while savoring classic American fare.
Conclusion
Kodiak, Alaska, is a destination like no other, where nature's wonders take center stage, and adventure awaits around every corner. Whether you're drawn to the island for its remarkable wildlife, outdoor activities, rich history, or culinary delights, Kodiak has something to offer every.
Also, check Kotzebue Alaska