Nestled in the heart of the Inside Passage and surrounded by rugged mountains, Skagway, Alaska, is a charming town with a rich history that draws travelers from all over the world. Known for its Klondike Gold Rush heritage, stunning natural beauty, and a variety of outdoor activities, Skagway offers a unique blend of history and adventure. In this comprehensive guide, we'll explore the top things to do, accommodation options, and restaurants that make Skagway a captivating destination for those seeking an authentic Alaskan experience.

Top Things to Do:
White Pass & Yukon Route Railroad: Experience a journey back in time by taking a ride on the White Pass & Yukon Route Railroad. This historic train offers breathtaking views as it winds through the stunning landscape of the White Pass and Summit.
Klondike Gold Rush National Historical Park: Learn about the Klondike Gold Rush at this national historical park, where you can explore historic buildings, museums, and ranger-guided walking tours that transport you to the late 19th century.
Hiking Trails: Skagway is surrounded by pristine wilderness and offers a plethora of hiking trails for all levels of hikers. Popular options include the Lower Dewey Lake Trail and the Yakutania Point Trail, which offer stunning views of the town and surrounding landscapes.
Chilkoot Trail: For experienced hikers looking for a multi-day adventure, the Chilkoot Trail is a historic trail that follows the path of Klondike gold seekers. Permits are required, and hikers should be well-prepared for challenging conditions.
Yukon Suspension Bridge: Located a short drive from Skagway, the Yukon Suspension Bridge offers a unique opportunity to walk across a suspension bridge, explore a historic trading post, and learn about the region's indigenous cultures.
Glacier Point Wilderness Safari: Take a scenic boat tour to Glacier Point, where you can get up close to tidewater glaciers and witness calving events. Keep an eye out for wildlife such as seals, eagles, and whales.
Rock Climbing and Ziplining: Adventure seekers can try rock climbing or ziplining in the stunning Alaskan wilderness surrounding Skagway for a thrilling experience.
Gold Panning: Channel your inner prospector and try gold panning at one of the local gold mines. It's a fun and educational activity for visitors of all ages.
Shopping: Explore Skagway's historic downtown, where you'll find a variety of shops and boutiques offering unique souvenirs, including locally crafted jewelry, artwork, and Alaskan-made products.
Photography: Skagway's dramatic scenery, from towering mountains to cascading waterfalls, provides endless opportunities for photography. Don't forget your camera!
Accommodation Options:
Skagway offers a range of accommodation options to suit different preferences and budgets:
Hotels and Inns: Skagway has several hotels and inns, including historic options that capture the town's gold rush era charm. Many of these properties offer modern amenities and convenient access to downtown.
Bed and Breakfasts: For a cozy and personalized experience, consider staying in a charming bed and breakfast in Skagway. These accommodations often provide a warm, welcoming atmosphere and local insights.
Lodges and Cabins: Experience a more rustic and immersive Alaskan adventure by staying in a wilderness lodge or renting a cabin in the surrounding wilderness.
Vacation Rentals: Vacation rental homes and apartments are available for those who prefer a more independent and private accommodation experience.
Camping: If you're an outdoor enthusiast, Skagway offers campgrounds in the Tongass National Forest and surrounding areas, allowing you to immerse yourself in the breathtaking natural surroundings.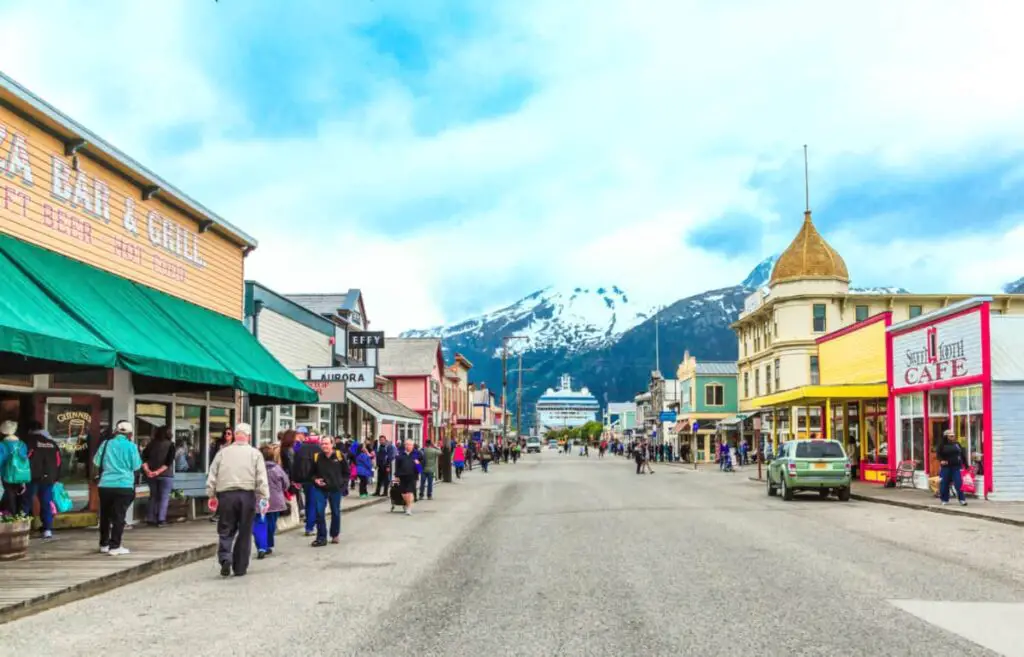 Top Restaurants:
Skagway's culinary scene celebrates fresh seafood and locally sourced ingredients, offering a taste of Alaska's rich culinary heritage. Here are some top restaurants to explore during your visit:
Skagway Fish Company: A popular waterfront restaurant, Skagway Fish Company is known for its fresh seafood dishes, including halibut, king crab, and salmon.
The Red Onion Saloon: Housed in a historic building, the Red Onion Saloon offers a unique dining experience in a former brothel. Enjoy pub-style food and explore the museum on the upper floors.
The Golden Saloon: Located in a historic building with a classic Western ambiance, The Golden Saloon serves up hearty fare, including burgers, sandwiches, and seafood.
Bonanza Bar and Grill: This local favorite offers a variety of dishes, from clam chowder to reindeer sausage. The outdoor patio provides a great place to enjoy your meal.
Starfire Restaurant: Starfire Restaurant offers a diverse menu with a focus on seafood and Alaskan cuisine. Enjoy a meal with views of the stunning surrounding mountains.
Glacier Smoothie Soaps & Café: Start your day with a visit to Glacier Smoothie Soaps & Café for a coffee and a fresh-baked treat. You can also find locally-made soap products.
Olivia's Bistro: Known for its elegant atmosphere and gourmet cuisine, Olivia's Bistro offers a range of dishes with a focus on seafood, including scallops and king crab.
Cook Shack Café: A cozy café offering sandwiches, soups, and baked goods, Cook Shack Café is a great spot for a quick lunch while exploring Skagway.
Sweet Tooth Café: Satisfy your sweet tooth with a visit to Sweet Tooth Café, where you can indulge in ice cream, pastries, and espresso drinks.
Breweries and Pubs: Enjoy locally crafted beers and pub fare at Skagway's breweries and pubs, where you can mingle with locals and fellow travelers.
In Conclusion:
Skagway, Alaska, offers a captivating blend of history, adventure, and natural beauty that makes it a truly unique destination in the Last Frontier. Whether you're exploring the legacy of the Klondike Gold Rush, embarking on outdoor adventures, or savoring fresh seafood, Skagway provides an unforgettable experience at the intersection of history and wilderness. Plan your visit to this historic town and immerse yourself in the rich culture and stunning landscapes of Skagway, Alaska.